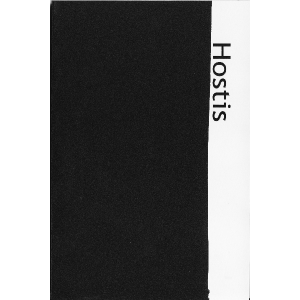 We are happy to announce that Hostis issue 1 is now available in PDF.
Issue 1: Cruelty
Few emotions burn like cruelty. Those motivated by cruelty are neither fair nor impartial. Their actions speak with an intensity that does not desire permission, let alone seek it. While social anarchism sings lullabies of altruism, there are those who play with the hot flames of cruelty. We are drawn to the strength of Frantz Fanon's wretched of the earth, who find their voice only through the force of their actions, the sting of women of color's feminist rage, which establishes its own economy of violence for those who do not have others committing violence on their behalf, the spirit of Italy's lapsed movement of autonomy, which fueled radicals who carved out spaces of freedom by going on the attack ("Il Diritto all'Odio" – The Right to Hatred), the assaults of Antonin Artaud's dizzying "Theatre of Cruelty," which defames the false virtues of audience through closeness with the underlying physicality of thought, and the necessity of Gilles Deleuze's ontological cruelty, which returns difference through the pain of change that breaks through the backdrop of indifference.
Whole Issue
1 – A Short Introduction to the Politics of Cruelty
20 – Nice Shit for Everybody by LA ONDA
23 – An Enduring Passion for Criminality by Tom Nomad and Gallus Stanig Mag
35 – ¿Ulrike? by Daniel Gutiérrez
39 – There Is a Third Thing taken from O Globo translated by Pepe Rojo
42 – Interlude III by Cassandra Troyan
It is also available for purchase from Little Black Cart. The first 100 were special edition prints on black sandpaper paying homage to Guy Debord and Asper Jorn's Mémoires.